Sorry, I got a little excited there. I have some news to share.
So my latest release, MY SOUL TO KEEP is out on Amazon for your kindle. I just ordered a proof copy of the paperback version and it should be arriving shortly. Once I go through it and make sure there are o formatting issues, I just have to approve it. THEN, it will be available for purchase in all its papery goodness!
So I figured this deserved a little bit of a celebration.
What am i doing to celebrate? That's easy. I'm going on tour! Well, not really but my BLOG TOUR launches MONDAY on Jen Wylie's blog. I'll be making a stop every other day or so and and up on Tiffany King's Blog. To help me celebrate, she's giving away a kindle copy of MY SOUL TO KEEP.
I'm a little excited. So excited in fact, I decided to give away a few copies myself. On top of that I'm giving away the very FIRST paperback copy of it ever and a whole bunch of other MY SOUL TO KEEP STUFF, like coffee mugs and tote bags in an awesome gift basket arrangement, okay it's really a box. Here's the details!
Don't forget to enter and good luck!
To enter, you need to go here: untoldpress.com/promotions
What is it?
Only the blog tour to celebrate the release of My Soul to Keep from critically acclaimed author Sean Hayden!
When is it?
Um, look above? May 14th – 25th. Sheesh. I don't know why we bother with the fancy graphics sometimes.
Where is it?
Finally a good question! Here's the schedule!
Kick-off party on Jen Wylie's blog!          May 14th
First stop, Darke Conture's blog!          May 15th
Stoppin by Julie Campbell's blog          May 17th
We're goin to Holland! Party at Alex Laybourne's blog!   May 19th
Up for some Madness and Murder? Jenny Hilborne's blog!   May 21st
ZOMBIES in the house! Rusty Fischer ya'll!          May 23rd
Finishin up with the YA QUEEN, Tiffany KING!      May 25th
WHAT'S IN IT FOR ME?
Hahahahahaha. Only the greatest prize pack EVER! Chock full of My Soul to Keep Superswag!
Contents include:
1 MSTK Tote, 1 MSTK Notebook, 1 MSTK Keychain, 1 MSTK T-shirt (size large),  1 MSTK Coffee Mug so you can enjoy tasty hot beverages in style…and…cue drum roll…are you ready…1 copy of My Soul to Keep. So what you say? Gasp. You don't understand. This copy is in paperback. Not only that but its an AUTOGRAPHED ADVANCED READER COPY!!!!!!! Yes ladies and germs, you get the paperback before anyone else in the whole wide world!!!!!! That's over a $125 value! Why? Cuz we wuv you.
We're also giving away 3 Kindle copies to second, third, and fourth place losers. I mean winners. Winners. Yeah.
AND, Miss Tiffany King is giving away a BONUS Kindle Copy of My Soul to Keep on her blog on the last day of the tour!
HOW DO I ENTER?!!!!!!
We knew you was gonna ask that. Here you go, kiddies. 1 Entry per day. Must tweet and you get extra brownie points (and entries) for LIKING Sean's Author Page on Facebook and for following his sorry butt on Twitter.
23total entries
0/4entries earned
My Soul to Keep Prize Pack!
3 Free Kindle Copy of My Soul to Keep
Categories:

Uncategorized
My Soul To Keep by Sean Hayden
YA Paranormal Romance novel
Ever have one of those bad ideas just pop into your head? You know the ones. They seem like a great idea at the time, but if you had stopped to think about it a moment…
I'm talking about those ideas where you just seize the moment and do what your heart tells you to. Then, after the dust settles and you get bandaged up, your parents say, "What the hell were you thinking?"
"But, Dad, I wasn't!"
I had one of those moments.
I guess if you want to be technical, I had a whole chain of those moments leading up to the big bang moment. The problem was I didn't have anyone standing around saying, "What the hell were you thinking?"
The moral of this story?
There are several.
First, stores don't sell black candles for a reason. They're bad news. If you happen to come across one in the mall that sells questionable items…walk away. Trust me on this one. Black candles are bad.
Second, always know what you want out of life. Coasting along, not caring about anything will get you into trouble. Maybe more than you can handle.
Lastly, if someone offers to grant you your fondest wish, wish for something you really, truly want. Wish for something that will make the world a better place or you a better person. Never ever wish to be a monster…
Categories:

Uncategorized
IT'S TOTALLY FREE FOR TWO DAYS, PEOPLE!
Editorial Reviews
Product Description
An anthology of the strange, bizarre, and just plain weird.
Zombies, vampires, ghosts, and …crickets? Try a taste of writing from two very different fantasy authors. Flash stories are super short and perfect for when you 'just have a minute'. This anthology contains 15 stories from authors Sean Hayden and Jen Wylie. Run the rampart of emotions in this exciting mix of tales. From humor to twisted, there is something for everyone.
Note: Some stories contain adult language.
---
Categories:

Uncategorized
Guess what ladies and gentlebeings, She done it again.
Who you ask?
Why the magnificent, talented, beautiful, kind, caring, sweet, lovable…well, you get the picture, Queen of Rainbows herself! JEEEEEEENNNNNNN WYLIE!
YAY!
What has she done you ask?
Gasp…you mean you don't know? You haven't heard? What the hell is the matter with you, you live in Canada or something????
JEN WYLIE'S UNTOUCHABLE  ECHO IS OUT!!!!!!!!!!!!!!!!
Set in the same mesmerizing fantastical world as the FORGOTTEN ECHO!!
Seeing the theme here?
See the shiny covers?
Categories:

Uncategorized
So that is my exciting news of the evening. Pretty friggin' exciting if you ask me. I LOVE HAVING MY STUFF IN PRINT. Not gonna lie. The kindle stuff is cool, but holding your own book in your hand is…
Oh, yeah.
Shivers.
List Price: $13.99 

About the author:

Born the son of a fire chief, Sean naturally developed a love of playing with fire. His family and friends quickly found other outlets for his destructive creativity. Writing is his latest endeavor.

Always a fan of the macabre, mythical, and magical, Sean found a love of urban fantasy and horror. After writing several novels in this genre, he found, fell in love with, and immersed himself in Steampunk. He has always wanted to rewrite history and Steampunk gave him that opportunity.

Sean currently lives in Florida as a fiber-optic engineer as well as an author. He was blessed with the two most amazing children he could ever hope for, has met the absolute love of his life, who coincidentally is his partner in everything. His hobbies include grand designs on world domination as well as a starring role in his own television sitcom.

Deceptions

Authored by Sean Hayden

The great State of California has elected themselves a new governor…and he's a vampire!

Many hope it will bring some peace between the humans and vampires. Many don't, which could be the reason someone is trying to kill the governor. Knowing they can't protect him from supernatural terrorist attacks, the Department of Homeland Security turns to the only people who can, the FBI. More importantly, their only vampire agent.

Ashlyn may be Governor Greer's only hope, but can she keep him alive without starting a war of her own?

When the lines begin to blur and it becomes difficult to separate her enemies from her allies, Ashlyn may end up doing just that.

Publication Date:

Apr 17 2012

ISBN/EAN13:

1590808703 / 9781590808702

Page Count:

278

Binding Type:

US Trade Paper

Trim Size:

5″ x 8″

Language:

English

Color:

Black and White

Related Categories:

Fiction / Fantasy / Urban Life
Categories:

Uncategorized
Well my friendly friends, the time has come. The moment we've all been waiting for. Okay, mostly me, but I'm still sharing 😛
Remember that book I wrote? Origins? Ringin' a bell?
Yeah, well guess what folks! THE SEQUEL IS OUT! YAY!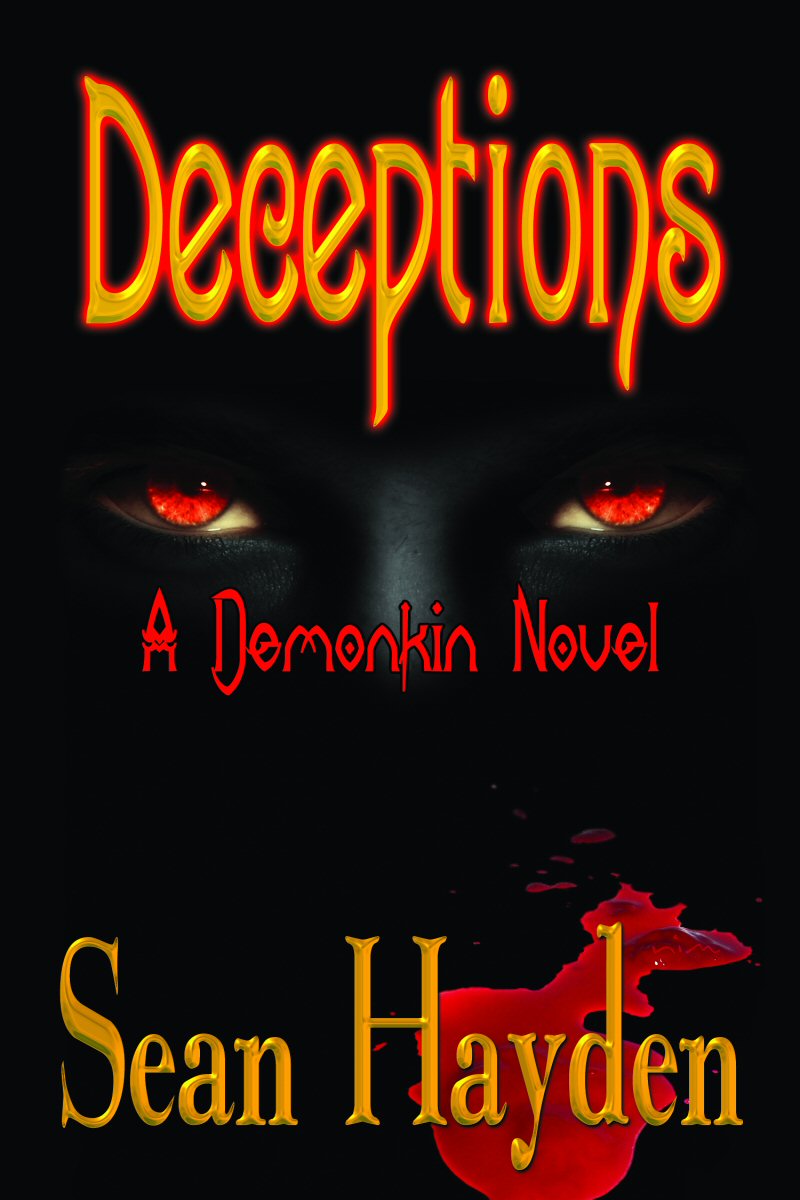 So do me a flavor. Go buy it. 😀
Go rate it. Give it lots of stars.
Stars are shiny and pretty.
I like lookin at stars
So please help
😀
Available at:
[Smashwords][Omnilit][Barnes and Noble]
[Amazon UK][Amazon DE][Amazon FR][Amazon IT][Amazon ES]
Don't forget to click that thumbs up button too! 😀


Categories:
About my books
california, deceptions, demon kin, demons, fbi, new release, Origins, Sean hayden, sequel, series, vampires
That's right people. Untold Press is giving the Kindle Select a tryout! They've put The Games We Play up FREE for 2 days! Go download!!!!!!
Product Description
This is a short story
A smoky bar, a few too many drinks, it had all the makings of a perfect night. It looked even brighter when he walked in. "Tall, dark, and delicious," she thought. Too bad Veronica didn't realize he was having the same thoughts about her. She looked very delicious…to the predator. A shot with a chaser quickly turns into just a chase. Running for her life was not how she thought the night would end. Veronica had always had a thing for games. She could only pray she would win this one.
Review
"Hot, sexy and twisted. Just like the author." – Jen Wylie, Author of Sweet Light
"Sexy, sassy and served up with a twist, Sean Hayden's 'The Games We Play' will leave you hot, bothered and lusting for one more bite." – Katy O'Dowd, Author of The Lady Astronomer
"Dark and dangerous, suspenseful and sexy, this short story is a well-written, engaging tale of greed, lust and love." – Jenny Hilborne, Author of Madness and Murder
Categories:

Uncategorized
Greetings earthlings. I know you're probably wondering after reading my eye catching blog title, What EXACTLY does that mean for you? Well. Lemme tell you.
You see, Deceptions is coming outmid month next month
Well, I had an idea to help celebrate. You see, Goodreads actually lets you host giveaways on thier site. So to celebrate the release of the sequel, I'm giving away 3 signed copies of the orignal! So click the Origins Cover if you want a chance to win!
GOOD LUCK!
Categories:

Uncategorized
Greetings yet once again peoples of Earth! Very excited for Jen Wylie. The very LAST installment of her Tales of Ever Series just hit the electronic shelves this week. I don't know if you've read any of these, but if you havent…
PUT THE DAMN REMOTE DOWN, SHUT OF FACEBOOK (THAT SHIT ROTS YOUR BRAIN ANYWAY AND IS MARK ZUCKERBERGERMEISTER'S PITIFUL ATTEMPT AT WORLD DOMINATION INSTEAD OF DOING IT THE OLD FASHIONED WAY THROUGH HARD WORK, DETERMINATION, AND SURFACE TO AIR MISSILE BATTERIES) AND GRAB YOUR KINDLE, NOOK, KOBO, OR WHATEVER AND GO BUY THE WHOLE SERIES.
Cuz I said so and said please and thank you. 😀
So, anyhoo. Here's a look at Sanctuary. Story 6 of the TALES OF EVER!!!!!! (Insert ominous music here)
Book Description
Publication Date: February 20, 2012
The only thing that could make Ever a worse place to be trapped in has finally happened. The dragons of Ever are loose…and they're hungry.
We've made it this far and I won't give up on finding the one person who could make being here a little better. We're so close to finding the hidden city and my dad. I know we are. I just don't know if we're going to make it. My friends and I are struggling. Okay, we're getting our butts kicked. We don't have a choice but to continue. It's not like we can call a time out.
Then the unthinkable happens…my boys get hurt. Now I have to summon the power and the courage to save them. I just hope it will be enough and we can find my father. Will we have a happily ever after?