Greetings, Earthlings! Guess what. I have another short story I just published on Amazon! YAY. The Games We Play was actually my submission to Paranormal Romance/Vampire contest. I didn't win, so I kept the rights. I'm kind of glad I did. This story was kind of special to me. It was my first attempt at ANY kind of romance as a published work and I enjoyed writing it. Now I hope you enjoy reading it! It's only $.99 on amazon, so go buy buy buy. Please please please 😀
Let me know how you like it!
And P.S. While checking it out could you possibly click that damn little "LIKE" button please and thank you. Maybe add some tags. Oh, and tell your friends. If you want to tattoo the cover on you somewhere, I would also appreciate that. I could possibly even sign it for you. 😀
Book Description
Publication Date: February 19, 2012
This is a short storyA smoky bar, a few too many drinks, it had all the makings of a perfect night. It looked even brighter when he walked in. "Tall, dark, and delicious," she thought. Too bad Veronica didn't realize he was having the same thoughts about her. She looked very delicious…to the predator. A shot with a chaser quickly turns into just a chase. Running for her life was not how she thought the night would end. Veronica had always had a thing for games. She could only pray she would win this one.
"Hot, sexy and twisted. Just like the author." – Jen Wylie, Author of Sweet Light
"Sexy, sassy and served up with a twist, Sean Hayden's 'The Games We Play' will leave you hot, bothered and lusting for one more bite." – Katy O'Dowd, Author of The Lady Astronomer
"Dark and dangerous, suspenseful and sexy, this short story is a well-written, engaging tale of greed, lust and love." – Jenny Hilborne, Author of Madness and Murder
Categories:

Uncategorized
Greetings those who read my blog. Greetings to those who don't. I recently had a contest on my blog and threatened, I mean offered to give away 3 copies of the new steampunk anthology I was privileged to be a part of. Well, I had a change of heart. I couldn't bear to categorize people into winners or losers. I just couldn't. So, me being the beneficent future ruler of the planet known as earth, I made an executive decision. If you entered…YOU FRIGGIN WON!!!!
CONGRATULATIONS!!!!
~Throws confetti!~
I will be emailing coupon codes from smashwords to all the lucky winners!!
Categories:

Uncategorized
Greetings and salutations, people of earth.
It is I, your benevolent future ruler. Just wanted to share a recent experience I had. You see, next week I'm going on vacation. I'm driving up to Canada, the frozen white north, to visit a certain special someone. I have a GPS unit I bought from Garmin. It's a cute little NUVI unit, but boy am I sorry I bought it. As part of my trip preparations, I went to enter the address of the love of my life into the unit. Street not found. Huh. That's weird. Checked the country and sure enough, USA is listed. So Changed to Canada. Thinking ahead, I figured I might as well and go ahead and set the correct Province in too. SO I navigated to the provinces. Wanna know what was on the province list? New Brunswick. They only had one Province listed. Who the fuck goes to New Brunswick?
Sensing a problem, I logged into My Garmin account. Sure enough, the active Maps section tells me I have a map of "NORTH AMERICA". BUT, if you read closely underneath that it says 49 states. WTF? Last time I checked "NORTH AMERICA" was more than 49 states. What REALLY pisses me off, is my girlfriend purchased a NUVI in Canada, and it CAME with a map of the US as well as Canada. Now THAT hardly seems fair does it? Hmmmmmmm.
SO, me not being bashful. I decided to email Garmin and let them know I was onto their little ploy and to see what I could do to Rectify the sitiation (I spelled that incorrectly on purpose, grammar nazi's).
Here was their response:
Dear Sean Hayden,

Thank you for contacting Garmin International. I will be happy to help you with this.

Your nuvi 1100 came preloaded with mapping of the Lower 49 States + Puerto Rico. The device does not include detailed mapping of Canada. To obtain mapping of Canada, you have two options available. Your first option is to purchase a map update. A purchased map update will provide you with full coverage mapping of North America.

Garmin offers two types of map updates: One-time and Lifetime. A One-time map update costs $49.99 and entitles you to a single map update. A Lifetime Map Update subscription costs $89.99 and entitles you to four map updates per year for the life of your device.

To purchase a map update for your device, please visit this link: www.garmin.com/updatemaps
Alternatively, you can purchase a full version map of Canada-only for $59.99. To purchase the full version Canada map, please visit this link: https://buy.garmin.com/shop/shop.do?pID=8750
Please reply if I can assist you further.

With Best Regards,

Evan Ro.

Product Support Specialist

2nd Shift Automotive Team

Garmin International

913-440-8280 (fax) Att: Evan Ro., Associate #6395
Hmmmmm. That pissed me off. Know what really gets my proverbial panties in a bunch? Buying something. And then having to keep shelling out money to make the fucking thing work. I hate that shit. If you're going to sell a product. MAKE IT WORK. I'm tired of purchasing additional warranties, subscriptions, online services, paid tech support. Enough is enough people. NEWSFLASH: THE ECONOMY SUCKS BALLS. Tired of spending money on things I've already bought every time I God damn turn around.
Here was my response to Garmin:
No
Because that is ridiculous. Why call a map "north america" when it only covers the united states? My girlfriend lives in ontario purchased a nuvi and it included both maps. I'm tired of purchasing equipment and having to continually spend money on them. I've purchased 2 garmin gps systems for work in the past year and a half and am sorry I recommended them to my company. In the future I will be recommending Tom-tom products so we can be listening to the soft melodious sounds of darth vader instead of that annoying hag you have telling me I'm going the wrong way. If I hear "recalculating" one more time…
So no. I will not be giving you 49, 59, or 89 dollars for a map that should have come with the unit. Not when I can use your substandard gps to get me to the damn border and then use my cell phone, google maps, or even a 2$ road map to help me navigate the last 2 hours of my journey. I will also be putting BOTH of my GPS units on eBay and be purchasing a GPS from Tom-tom. I will also be sharing this story with my 700 friends on facebook and my 4000 friends on twitter explaining why they should NOT buy your products either.
Garmin's response to my letter:
NONE.
NADA, zip, zilch, fuck you we don't care. I guess their complaint department doesn't give a shit.
Categories:

Uncategorized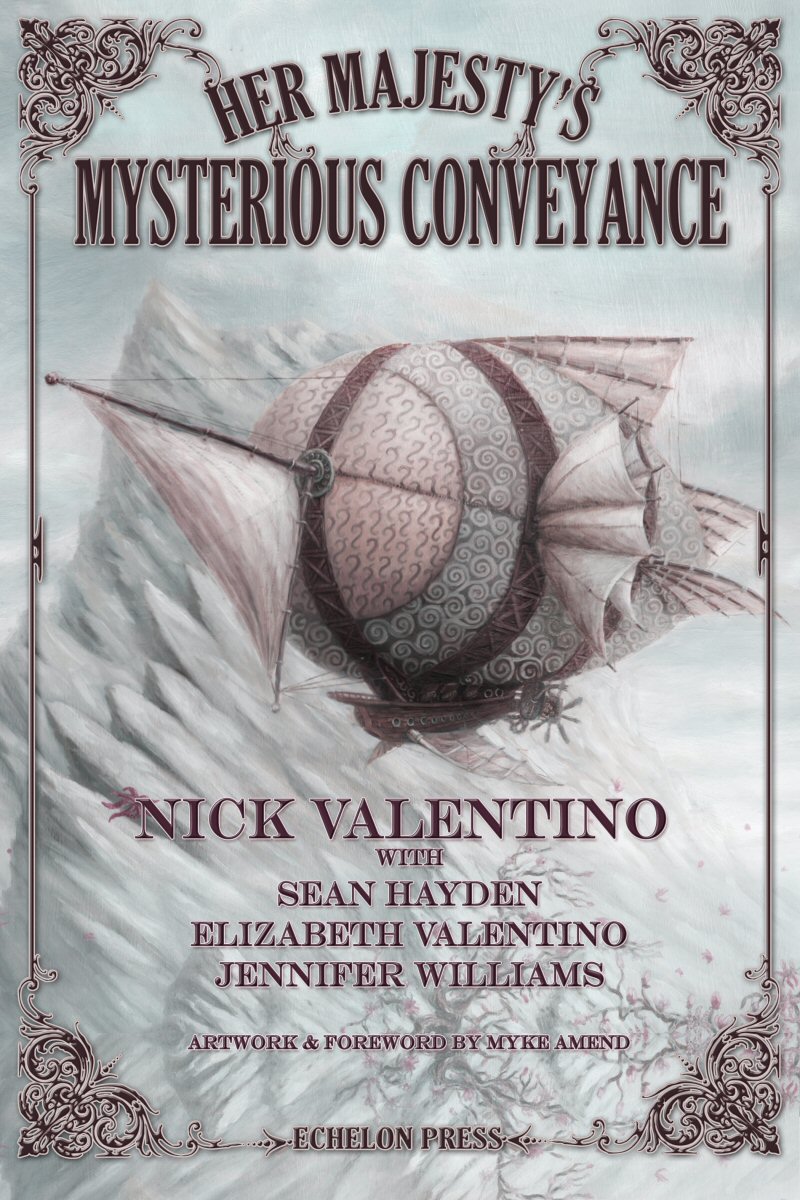 Are you a Steampunk Fanatic?
Want to enter for a chance to win one of three eCopies of Her Majesty's Mysterious Conveyance?
HA! Do Airships Float? OF course you do!!!!!
"So how does one enter," you ask? Tis simple. Even a grease monkey could accomplish it!
I shall even give you options!
You can:
I just entered to win Her Majesty's Mysterious Conveyance from @shaydenfl 's blog! #steampunk http://wp.me/pVp6Y-a0
Tweet this message to your followers!
OR!
Yes, I did make it that simple!
Once you've done EITHER (or both if you're feeling gracious) simply leave a comment that, "HEY! I FREAKING ENTERED!" and please leave your name!
That's it. 3 winners will be chosen randomly by putting their names on tiny pieces of paper and pulled randomly out of a hat. I will video the whole process to keep it fair!
GOOD LUCK!
Contest ends FEB 15th, 2012. Winners will be announced in that day's blog post.
Categories:

Uncategorized
It's that time of year again people! Have a whole plethora of shtuffs comin your way.
Deceptions, the sequel to Origins is coming out VERY soon. I should have a release date any day now. As soon as i DO, I will let you know.
The short story series, The Magnificent Steam Carnival of Professor Pelusian Minus episode 4 that Connor, my twelve year old son and I are writing together should be out soon, too! Will keep you posted on that as well.
BUT…
IN the meantime…
A while back I was asked to do a Steampunk Anthology with some TRULY talented authors. Nick and Elizabeth Valentino and Jennifer Williams. I was soooo excited to do this anthology. We all had to follow the theme  pick a foreign country as our setting. I'm mostly Irish, so I picked Croatia. Just kidding. I picked Ireland and my story follows the journey of a young Traveler (or Tinker as they are often called) on her journey to become Queen. I hope you enjoy it!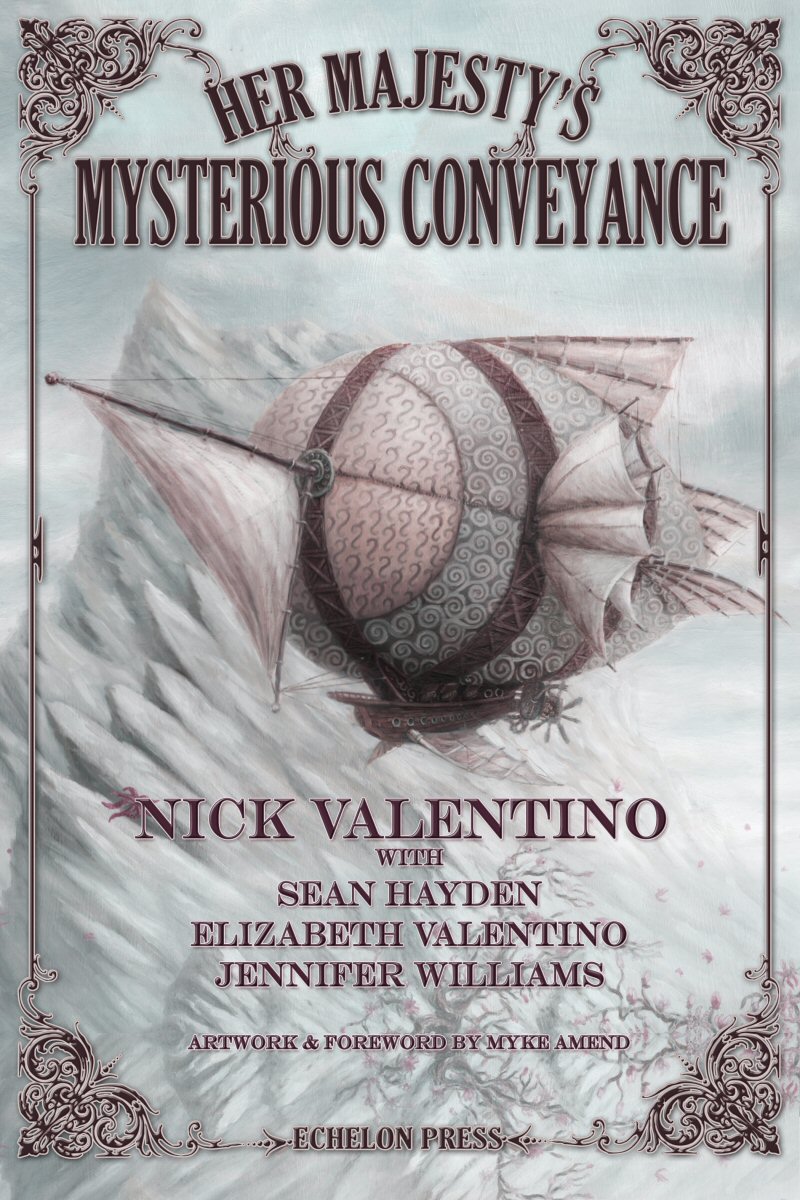 Product Description
In an era when steam rules the sea and the skies, the monarchy struggles to maintain control. Across the lands, battles are fought for the sake of peace and love.
**Ten Thousand Years
Pirate captain Maro and his crew have embarked on their most dangerous mission. To secure the release of his former army platoon wrongly imprisoned in Korea, Maro has snared the Empress of Japan's private airship in an attempt to kidnap her for ransom. Before they reach her, they must daringly board the Empress' ship, blast their way through samurai automatons, and escape the powerful and menacing Japanese military airship, the Great Phoenix. Through determination and bloodshed, Maro and his men fight to regain their honor, but the real meaning of sacrifice is miraculously realized by the most unlikely one of them all.
**Queen of the Travelers
Their people have had many names over the years: tinkers, tynkers, gypsies, an Lucht Siúil, and other less savory names. They are the Travelers. Shannon is happy with her clan. They make their living scrounging the scrap yards of Ireland, foraging to keep their crawlers working. Even among the mechanically inclined, Shannon is extraordinarily blessed, but her abilities may become a curse. The Queen of the Travelers is passing and Shannon is ripped from her clan as a candidate for the throne…if she can survive.
**Reclaiming the Throne
Sophia has one immediate goal: eliminate a threat to the throne. As a young vampire assassin, she's spent her entire life taking orders and fighting in the name of the Royal Paranormal Supremacy society. But now they've turned on her. As she prowls the icy Serbian mountains, she faces off against another vampire with a mission of his own, but he doesn't play by the government's rules. Together, they must lay their lives and their hearts on the line to do what is right and help the rightful Serbian heir, reclaim the throne. It will take all their skills and mechanical wonders to make it out alive.
**The Hidden History of Stones: Or How the Sinking Jenny Was Sunk
Victoria's England, Victoria's London. It is a time of great change for the Capital. A time of industry and enterprise, sweat and smoke. But even as this century rushes to catch up with its own progress, a greater change is coming. Deep within the River Thames, something that has been asleep for hundreds of years is stirring. For the crew of the Sinking Jenny it is just another piece of salvage dredged up from the ancient mud, and not even a particularly valuable one at that, but the Stone holds the knowledge of Kings and Queens, the secrets of every man and woman, and the lies that all children keep in their hearts. For Captain Hardy, the mysterious Mr Rymer and their young apprentice Bill, the Stone is the beginning of a nightmare.
Categories:

Uncategorized
DESCRIPTION:
Genre: Kick ass YA Zombie Story
Price: Too low
Pages: Not enough
Rating: 5 zombie thumbs
Okay, I normally don't review books especially on my blog. If I read a book and its really good I post a review on amazon. The fact that I'm actually reviewing this book should speak VOLUMES (get it? Made a book joke.) about Zombies Don't Cry.
I'll admit it. I'm a vampire nut. I read about them, write about them, and occasionally dream about them. I have never felt anything other than icky about zombies. Don't like zombie movies. Don't like zombie books. Don't like zombie merchandising or action figures. I always thought they were pretty gross and as for fictional characters left little for character development when their only dialogue is, "Brains!"
I hate zombies sooo much, that if the zombie apocalypse ever came to be, hand me a shotgun and a chainsaw and get behind me. I'll lead the way to safety!
Then I fell in love. Not with a zombie, but a zombie book. I had the opportunity to meet Rusty Fischer at the Spooky Empire Convention in Orlando. What an amazing guy. Personable and just a lot of fun. He gave me a copy of his book and said, "Here. TRY it." So I did. Thanks be to the gods for Rusty Fischer. He had me hooked from chapter one. He actually makes being a zombie, COOL!
If you've ever seen a zombie movie, you know the premise for every zombie book ever written. You know "Tanker truck crashes spilling toxic waste in the mostly deserted town. Redneck comes into contact with said toxic waste, becomes zombie, bites everybody, and by the end the last two survivors of humanity are surrounded by the zombie hordes in a desert somewhere." That story.
Zombie's Don't Cry is NOTHING like that. Rusty pens a tale of wit, humor, edge of your seat excitement and makes you root for the undead! They're the good guys and I can promise you there isn't one poorly sealed container of toxic waste anywhere in the story! WOOT WOOT!
So grab your kindle, and throw this one on it. I promise you that you won't be disappointed especially if you're into YA Books. It's a great story from start to finish, doesn't leave you with a cliffhanger, and has plenty of room to grow for sequential works! (If you read this, I'm serious, Rusty. I want them to go to Disney World next!)
Biography:
A former high school teacher, Rusty Fischer is the author of several supernatural novels for young adults, including Zombies Don't Cry, Vamplayers and Afterlife Academy. He and his beautiful wife Martha live in sunny Cape Canaveral, Florida.
Visit: www.zombiesdontblog.blogspot.com.
I gotta tell you, few things in this world PISS me off as much as waking up in the morning. My arch nemesis is that stupid little alarm clock application on my iPhone. People who wake up bright eyed and bushy tailed should be shot. In the kneecap. Dragged over a grated drawbridge by a formula-one race car, soaked in alcohol, beaten up, and then shot again. If after all that and they are still breathing, kick the crap out of them again.
So, this morning started out like any other normal Thursday morning. Alarm went off. I cracked my eyelids, moaned, let out a string of scathing expletives that would make a nun blush, and crawled out of bed like a hungover gutter rat. Which is weird, since I don't drink.
Now we hit the remainder of my morning routine. I crawl through the house and pay homage to the gods of the arabica bean (turn on the Keurig) and hit the bathroom after that (have to do something for a minute while the coffee brews).
I won't bore you (or scar you) with my morning bathroom ritual. Let's just say, some people read. I turn on my iPhone, check book sales, check twitter, check facebook, and lastly…go through the gumpteenmillion emails I seem to get when I'm sleeping. Well. LO AND BEFRIGGING HOLD…I got an email that made me not only smile, but jump up and down for joy! (Which I don't recommend until AFTER the completion of the morning ritual)
I received an email from the great folks at the Paranormal Romance Guild. They reviewed my book Origins a few months back and I actually blushed from their review. Well needless to say, when I read their email that said they were nominating it for the Best Read of 2011, I almost fainted!
SO now that it's nominated, I NEED YOUR HELP!
"How?" you ask…
Simple! GO VOTE FOR ME!!!!!!!!!!!!!
Please and thank you very much with sugar and chocolatesauce on top!
Here's the email! and the links n' stuffs:
YOUR BOOK HAS BEEN CHOSEN BEST READ OF 2011
 Happy New Year Dear Authors,

The Paranormal Romance Guild is happy to announce your Book has been chosen
as the Best Read in 2011 by our reviewers and we are having a contest for
readers to choose the winner….Attached is a jpg so you can promote this
with your book to your sites and have your fans come bring out the vote for
your book…

Voting will be on our site www.paranormalromanceguild.com

The contest will begin and go live on the 6th of January  and end midnight
the 20th of January. We will open site today for you to view but the voting
link will not open until 9 am the 6th of January EST. voting site is
prg.contest@gmail.com
THANK YOU EVERYONE FOR YOUR SUPPORT!!!!!!!!!!
Categories:

Uncategorized
In twenty years of being a professional author I've had a lot of strange adventures and created a bunch of crazy characters. The riskiest part of what I do as a novelist is to practice "method writing." As in "method acting," I "become" my characters so they come across as realistic. No wonder I am a neurotic mess.
I've been the Antichrist, a female version of the second coming of Christ, witches, demons, angels, vampires, drag queens, Cher impersonators, tin-foil-hat-wearing conspiracy theorists, and dogs…a whole hell of a lot of dogs. Oddly, I do dogs best. Go figure.
In my most recent paranormal thriller, THRESHOLD, I was a tween boy who drowns, has a near-death experience, and returns with a mission. First off, I must mention boys that age sure think about sex a lot, don't they? It was hard to get past all Cole's lustful yearning to stay on track and save the world. Besides Cole's compulsive desire for a hot sixteen-year-old redhead named April, he's also a die-hard Trekkie. So, of course he sees the after-death tunnel of light as a wormhole, and the divine guide on the other side as the omnipotent Q from the Star Trek franchise. He ponders profound Star Trek episodes in order to work out metaphysical dilemmas. (Thank goodness I had a ten-year-old Trekker on Twitter to consult with about such divine matters.) And Cole sits at the bar of the Desperado Saloon waxing philosophic by the hour, pausing every once in a while to tell the barkeep to, "Hit me again." Bartender Saul stifles his amusement as he tops off Cole's frosty mug of root beer.
I really enjoyed being Cole, especially since he ends up being the most heroic character I ever created. My own earliest fantasies involved saving the world and because of my writing I've been a superhero more times than I could have ever imagined. I love my job.
However, I also love being a dog. I really, really do. Perhaps this is something I should discuss in detail with the veterinarian, um, psychiatrist on my next visit.
*          *          *
Read the first chapter of THRESHOLD here: http://www.devinwrites.com/bookexcerpts/thresholdchapterone.html
*          *          *
THRESHOLD is available in both print and as an eBook. Find links to where it may be purchased here: http://www.devinwrites.com/threshold.html
*          *          *
Devin O'Branagan writes paranormal thrillers, urban fantasy, paranormal chick lit, comic chick lit, and canine chick lit. Her bestselling urban fantasy, GLORY, was nominated for the 2011 Best Popular Paperback for Young Adults List, sponsored by the Young Adult Library Services Association (YALSA) of the American Library Association. She writes a humor column for TAILS Magazine, is a member of the Dog Writers Association of America, and uses her writing projects to support animal rescue. Her publishers have included Simon & Schuster's Pocket Books, Germany's Heyne Verlag, and Turkish publisher Dogan Egmont. To learn more about her novels, find out about her latest book giveaway, and join her popular writers' forum, visit her website at www.DevinWrites.com
Categories:

Uncategorized
GREETINGS AND SALUTATIONS DENIZENS OF EARTH!
I don't know if I told all of you my superexciting news, but I figured now would be a great time to share it. A few months ago I was contacted by the writing group and I was invited to join The Scriborium. They are just starting out but run by a fantastic Author, Kyra Dawson. Needless to say I jumped right on board and within a month I received an invitation that really, really made me smile.
Working closely with Foden Press, The Scriborium decided to put out an anthology for Christmas. Now when everyone thinks of Christmas, they think mistletoe, hot cocoa, and Santa. The Scriborium wanted to do something a little different. Thus was born AVery Scary Christmas. It's an anthology with a Christmas Theme alright, but with just a dash of HORROR! I couldn't have been happier that they asked me to partake in the anthology.
I had five million other projects in the works, but I knew I wanted to be a part of it. I have this quirk. Most of the time I just sit down and write a story from start to finish, but when asked to write something specific I have a bad habit of coming up with a title and then writing the story around it. I immediately started working on clever puns for my title. I figured the easiest way would be to substitute slay for sleigh. Yeah. Pretty clever huh? I thought so. My other problem is I like to maintain a modicum of originality. Usually when I come up with a clever title I check Amazon to see if it's ever been used before. I hit the proverbial wall. Check Amazon. Care to take a guess as to how many Christmas themed stories have the word "SLAY" in it. Yeah. I didn't either. I decided to take my puns elsewhere.
But then I had a bit of inspiration. I've always been a fan of every spin on A Christmas Carol you could imagine. To date my favorite is Bill Murry in Scrooged. I FRIGGING LOVED that movie. Then the wheels of the noggin bus went round and round. What if I Horrified my own Scrooge story? HELL YEAH! That only left a catchy title to come up with…
Thus was born The Ghost of Christmas Last.
I didn't even have to think of it. It just came to be.
Smiling to myself, I put the project on the back burner and worked on the multitude of other things I had going on until the day before the deadline…
Okay, lol. You might not know this about me, but remember that stupid story about the grasshoppers gathering food for the winter? One worked hard all year, the other waited til the last minute? Yep. You guessed it. I'm the stupid grasshopper.
Panicking I did the only thing I could think of. I brewed a pot of coffee, grabbed my laptop, locked my bedroom door, and sat down to write.
I got up only to eat and use the bathroom.
I pumped out 10,000 words and I will say, never before had a story flowed from my fingers more fluidly or faster. It was almost as if the story wrote itself. I had FUN with it. I made the ghost scary as hell and tried my best to make the story touching like its predecessors. Usually when I complete a story I'm so worried that everyone will hate it that I feel a little sick inside. This time, I didn't care. I smiled when i typed the end. I loved it when I went over it. I wrote the Christmas story I had always wanted to write and I was damn proud. Until I submitted it. Then the stomach flops and butterflies started. LOL. I'm such a dork.
Anyway, I hope you truly love not only my story, but the whole anthology. A bunch of us poured our hearts and souls into it! MUHAHAHAHA.
Be sure to check it out, the wonder folks at Foden Press, and The Scriborium!
Here's a ton of links for your Perusal!
Here's the first blog POST about A Very Scary Christmas
Be sure to Check us out on FACEBOOK
And heres some links for Foden Press! Be sure to check out all their books!
Categories:

Uncategorized